2019 SCHEDULE

______________________________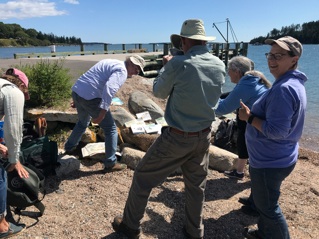 JULY 14-19, 2019

Coastal Maine

Pleine Air in Watercolor & Mixed Media

WoodenBoat School in Brooklin, Maine

LINK: A SAMPLER OF CLASS LOCATIONS AND AMY'S WATERCOLOR CLASS DEMONSTRATIONS

DESCRIPTION — A 5-DAY WORKSHOP:

Create colorful compositions that capture the essence of Maine's rocky coast and details of life along the shore. Each day we travel to new locations – boat yards, harbors, lobster wharves, quaint towns, islands, fields of wild flowers, granite ledges and more.

Experiment with a variety of mixed-media techniques perfect for plein air: pen & pencil, watercolor, charcoal and pastels. You'll develop color studies on location and also have time back in our "loft studio" to complete finished pieces using the media of choice. Amy offers multiple step-by-step demos each day that address a range of skills: novice students learn basic drawing, composition, perspective and color mixing; the experienced students are given challenges and advanced demos to develop new skills. In addition to the group demos, each student receives individual attention and personalized demos as they develop their work. Amy says, "I try to make this art experience both fun and a little challenge…for me as well as the students." All levels of experience are welcome.

REGISTRATION: begins January 2, 2019

TUITION: Catalog is published in December 2018

FOR MORE INFO: WoodenBoat School: phone 207-359-4651, or click on website link for all info and the registration form:   thewoodenboatschool.com

SUPPLIES: a supplies list will be added in December

DAILY SCHEDULE: Orientation is Sunday evening. Classes run Monday through Friday, from 8am to 5pm, with an hour for lunch.

ACCOMMODATIONS: housing, meals and campsites are available at the school, or students can find their own accommodations.

LOCATION: The WoodenBoat Shool is on the waterfront, in a rural setting, just a mile down the road from the town center of Brooklin, Maine.