2022 SCHEDULE

______________________________

The commercial lobster wharf in Stonington on Deer Isle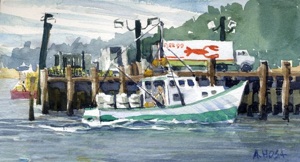 Demo of barnacles on a rock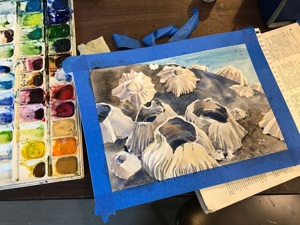 SEPTEMBER 4-9, 2022

Coastal Maine

Pleine Air Watercolor

WoodenBoat School in Brooklin, Maine

LINK: A SAMPLER OF CLASS LOCATIONS AND AMY'S WATERCOLOR CLASS DEMONSTRATIONS

DESCRIPTION — A 5-DAY WORKSHOP:

Create simple yet dramatic watercolors that capture the essence of Maine's rocky coast and details of life along the shore. Each day we travel to a new location to paint plein air: a boat yard, a quaint town and lobster wharf, pine covered islands, and beaches with granite ledges, shells and seaweed. Amy's mantra is, "Look for an interesting composition and keep the detail simple." Her goal for students is to paint lively watercolors by experimenting with a mixture of techniques, like wet-into wet, glazing and dry-brush. Multiple step-by-step demos each day (in our classroom studio at WoodenBoat and outdoors on location) include basic drawing and brush techniques, color mixing, shading for volume, and perspective…even tips on how to fix mistakes! Each student also receives individual attention and demos as they develop their work. Novice students focus on the basics, while experienced students are given challenges and advanced demos to experiment with style and techniques. All levels of experience are welcome.  

FEE: $850

REGISTRATION:

For all info and the registration form:   thewoodenboatschool.com

SUPPLIES: a supplies list will be sent upon registration

DAILY SCHEDULE: Orientation is Sunday evening. Classes run Monday through Friday, from 8am to 5pm, with an hour for lunch.

ACCOMMODATIONS: housing, meals and campsites are available at the school, or students can find their own accommodations.

LOCATION: The WoodenBoat Shool is on the waterfront, in a rural setting, just a mile down the road from the town center of Brooklin, Maine.

PHOTOS from 2021

A class critique on site at Naskeag Point Wharf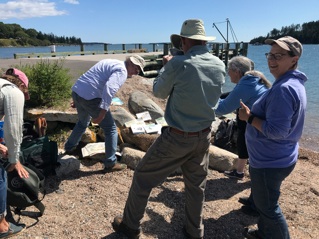 Working in our loft studio at the boat barn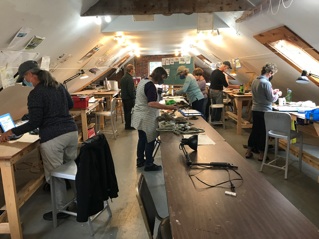 A quick sketch / watercolor study of the shore